In the name of blogging effectively, here's a quick post.
Photos courtesy of my iphone 4s right before I dashed to work this morning.
I hopped over to the fabric store yesterday for some lining for a skirt I'm sewing, and ended up getting these clearance fabrics, for making stuff for pattern making class - maybe a few dresses / skirts / shirts. I like them :-)
fabric - clothes-to-be :-)
Here's the A-line skirt (6 pieces) that I'm making out of an off-white loose weave fabric which may be some sort of cotton/linen blend. Here it is on my ironing board (ignore the messy cords on the floor...)
And here it is again, right side out. I need to re-press the hem and hand hem it. I also plan to hand-stitch a running stitch along each side of the seams. I need to line it and add a belt and yay, new skirt!
As for my
typography challenge
creation - I've decided to stop fussing thinking about it and just go with one idea. There's this saying that's relevant to software development that I believe in and want to apply to a large pillow. I dunno yet if I'll print it on, embroider it, or applique it. What do you think?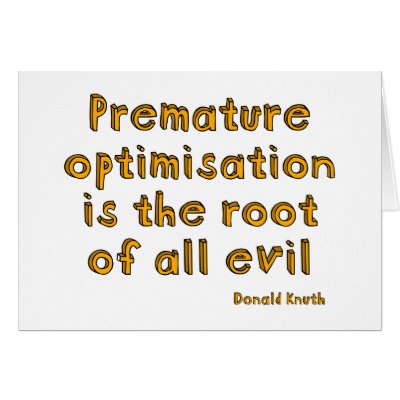 Here's my explanation about what this saying means:
As a programmer, you face technical / design / engineering problems that you need to solve.
Many times, the solution is simple, but the simple solution is sometimes costly in terms of performance, memory consumption, etc.
So sometimes the programmer says "hey, I have a complex solution for the problem, that is less costly" (for example: runs twice as fast, or uses less memory).
This is called optimization: taking a solution that works and tweaking it to make it better.
Why is the case I described above called premature optimization? Because the penalty of the complex solution (hard to implement, maintain, and debug) many times outweigh the benefits. Sometimes you have code that takes an hour to run, and you improved a tiny part of it, that used to run one second, and now runs half a second. You wasted time achieving something negligible, while complicating the code and made everyone hate you.
In short, always go for the simple solution. In the end, test the system's performance, find the bottlenecks, and carefully optimize those areas only.